Hello, and welcome! My name is Stephen Chamberlain, and I'm thrilled to announce Troubador Publishing will soon release my debut fantasy novel, Graëlfire. About the book:
A centuries-old quest
A feud spanning universes
A life in the balance.
University student Lena Dubois is dying. Her only hope of survival is a centuries-old quest for the lost secret of the Cathars. When the past collides with the present, Lena becomes embroiled in a cosmic vendetta where malevolent forces eight hundred years in the making propel her to a deadly showdown.
Graëlfire is an intriguing new twist on the quest for the Holy Grail. Based on the medieval myth of the Grail as a stone that fell from Heaven, the story is set in present-day Switzerland and thirteenth-century Occitania within a fictional cosmos where universes emerge from the cosmic soup of graëlfire, the source of all Creation.
A fantasy thriller for adults, it is a story of loss and discovery, courage and betrayal, forbidden love and revenge.
While remaining true to Grail quest tradition, this modern re-telling introduces a fresh setting, an alternative mythos and a new array of fantasy characters for readers to explore.
You can read more about me and the world of Graëlfire. Information is also available on Troubador's website.
I hope you will like reading Graëlfire as much as I have enjoyed writing it. Stay tuned for further news. While finishing the sequel, I will post more about the book and the inspiration behind it.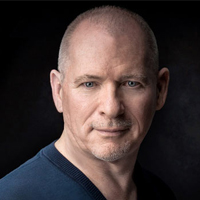 Stephen Chamberlain is the author of the fantasy novel Graëlfire. He draws inspiration from the impact of landscape on myth, and the association of liminality with the supernatural and magic. Stephen lives in Switzerland.